Daily News | 27th April 2018
VOBIS $24 million Per Annum Opportunity Closing Monday

Friday, 27th April 2018

Racing Victoria (RV) has reminded owners and breeders that the deadline for nominating foals born in 2016 for the lucrative Super VOBIS scheme is 5pm on Monday, 30 April 2018. A major incentive to nominate is the inaugural running of The Showdown, the $1 million VOBIS Sires two-year-old race which will be held at Caulfield on Victorian Owners and Breeders Raceday in April 2019. For the progeny of VOBIS Sires stallions to be eligible to compete in The Showdown, they must be first nominated to both Super VOBIS and VOBIS Gold, with nominations for the latter not closing until 31 August 2018. Every two and three-year-old race in Victoria carries a Super VOBIS bonus, ranging from $12,000 at country races to $30,000 at Saturday metropolitan races, thus giving owners and breeders an even greater incentive to register for the scheme. The VOBIS program, taking in Super VOBIS, VOBIS Gold and VOBIS Sires, collectively offers $24 million in prizemoney and bonuses each year. Thrillster, a two-year-old filly trained by Leon and Troy Corstens, is the new VOBIS poster girl, having accrued almost $350,000 in prizemoney and bonuses with two wins and a runner-up finish from just three career starts. No nominations will be accepted after the 30 April deadline, and all nominations must have their parentage verified to be accepted into the scheme. Nomination forms for Super VOBIS can be downloaded here.

State-Of-The-Art Technology Snares Rawiller

Friday, 27th April 2018

The Hong Kong Jockey Club (HKJC) has revealed it used state-of-the-art systems that allow it to monitor betting patterns to help gather evidence against banned Australian jockey Nash Rawiller, reports the South China Morning Post. Rawiller was disqualified from riding for 15 months on Wednesday after he was found guilty of accepting money or gifts in return for tipping horses. The 43 year-old also faces potential criminal prosecution. "People should know we have an extremely vigorous system and that we can uncover things that perhaps others can't," HKJC chief executive Winfried Engelbrecht-Bresges said. "We monitor markets, both legal and illegal, in Hong Kong and around the world, and we have a dedicated team that does that." Engelbrecht-Bresges added: "We can use the data we find to be more specific in investigations and we identified this as a significant case. The analysis we do of markets, both legal and those overseas, helped us identify a pattern. We had sufficient evidence we could start the investigation." The major illegal market is CITIbet, a largely unregulated agent-based exchange on which account holders can essentially bet on horses to lose. The HJKC estimates that last year CITIbet held US$50 billion on racing annually, with its biggest market being Hong Kong.

In Her Time Secures The Everest Slot

Friday, 27th April 2018

The powerful Tabcorp group announced yesterday that it would be represented by Gr1 The Galaxy winner In Her Time (Time Thief-Hell It's Hot) in the Spring's $13 million The Everest (1200m) at Randwick. According to AAP Racing, the Ben Smith-trained 5YO mare becomes the second confirmed runner after triple Gr1 winner Trapeze Artist was confirmed as Aquis Farm's representative earlier in the week. Narrowly missing out on a run in last year's inaugural running of The Everest, In Her Time still went around at the meeting where she won the Listed Sydney Stakes (1200m). In Her Time was passed-in by the Moses family's Kanangra Stud for just $38,000 at the 2014 Inglis Classic Sale, and her 8 wins thus far have earned her connections returns closing on $2 million. She is expected to clash with 2017 The Everest hero Redzel in next month's Gr1 Doomben 10,000 in Brisbane.

In Her Time (pic: Steve Hart)

Ward Eyeing The Everest Opportunity

Friday, 27th April 2018

Meanwhile, US trainer Wesley Ward will be keeping a close eye on the performance of Australian sprinter Redkirk Warrior when he clashes with Bound For Nowhere in the Group 1 Diamond Jubilee Stakes (1200m) at Royal Ascot next month, reports racingnsw.com.au. Ward has expressed an interest in bringing a horse to Australia for The Everest (1200m) in October and has identified Bound For Nowhere (The Factor) as an ideal horse to contest the $13 million sprint feature. Bound For Nowhere, who made his Royal Ascot debut last year when a close fourth in the Gr1 Commonwealth Cup (1200m) for 3YOs, is unbeaten in his two starts this year, the latest being a victory in the Gr2 Shakertown Stakes (5.5 furlongs) at Keeneland. "Bound For Nowhere is coming into his own right now. He is in great form and undefeated in the United States. He is better than he ever was," Ward told Sky Sports Radio. "I wouldn't come [for The Everest] unless I thought I could win. It's a long way to go to lose. I certainly have The Everest on my radar, that's for sure." The Gr1 Diamond Jubilee Stakes (1200m) will be run at Royal Ascot on Saturday 23 June.

I Am Invincible Fee Soars

Friday, 27th April 2018

I Am Invincible will become the second most expensive stallion standing in Australia in 2018 after having his fee increased to $192,500 (inc. GST), Yarraman Park Stud has announced. I Am Invincible stood for a fee of $55,000 in 2015 and 2016 before jumping to $110,000 last year. The son of Invincible Spirit (IRE), who will stand alongside his sire son and Yarraman Park Stud newcomer Hellbent and Hinchinbrook (Fastnet Rock) this year, is second only to Arrowfield's incumbent Champion Australian Sire Snitzel (Redoute's Choice) who will command a fee of $220,000 in 2018. Fastnet Rock's (Danehill) fee remains private. "I think with what he has achieved on the track and in the sales ring he sits near the top of the tree and is just behind Snitzel, so we think he warrants that sort of service fee," Yarraman Park Stud's Arthur Mitchell said. "He had an outstanding book of mares last year led by Black Caviar and other Group One winners." Mitchell added: "He has had four Group-winning two-year-olds and that is not including Oohood who was placed in the three major two-year-old races, so with the better mares coming through there is no reason why he can't stay at the top." Demand for I Am Invincible's progeny has reached new heights this year with yearlings selling to a top of $2 million at an average of $441,901 from a service fee of $55,000 (inc GST). Hinchinbrook's fee will also rise to $55,000, while Gr1 winner Hellbent's introductory fee has been set at $27,500. Yarraman Park's Stud fees (inc. GST):

I Am Invincible $192,500
Hinchinbrook $55,000
Hellbent $27,500

Black Caviar visited I Am Invincible in 2017 (pic: Steve Hart)

Surgery for Cliff's Edge

Friday, 27th April 2018

Classy 3YO Cliff's Edge will undergo surgery next week to have bone chips removed from his front fetlock, reports racenet. The Darren Weir-trained colt underwent a veterinary inspection after finishing 8th as a $1.55 favourite in last weekend's 3YO VOBIS Sires Stakes (1600m) at Caulfield. The son of top European miler Canford Cliffs has won 6 of his 16 starts including the Gr2 Alistair Clark Stakes (2040m), Gr3 Manfred Stakes (1200m) and Gr3 Caulfield Classic (2000m).

Chocante On Track for Hollindale

Friday, 27th April 2018

Chocante will press on to Saturday week's Gr2 Hollindale Stakes (1800m) at the Gold Coast despite only beating one runner home in last weekend's Listed Tails Stakes (1600m) at Doomben, reports NZ Racing Desk. Cambridge trainer Stephen Marsh said instructions to jockey Jim Byrne were to ride last year's Gr2 Brisbane Cup (2200m) winner back so he could work to the line late. "We wanted him to get back just so he could hit the line, but he stoked him up from the barrier, went forward and got caught three wide and then had to do extra work coming to the home bend so it wasn't an ideal situation," explained Marsh. "He fell in a hole at the end, but that was to be expected with the work he'd done. He's come through the race well so we'll head on to the Hollindale as planned. I have to be pretty forgiving of the horse with the run he had." Chocante (Shocking) showed what he is capable of last Spring when placed behind champion mare Winx in the Gr2 Chelmsford Stakes (1600m) and Foundry in the Gr1 The Metropolitan (2400m) in Sydney. His primary winter target is the Gr1 Doomben Cup (2000m) on 19 May.

Melbourne Plans for NZ Oaks Winner

Friday, 27th April 2018

Michael and Matthew Pitman are already making plans for a return trip to Australia with classy Kiwi filly Savvy Coup, reports NZ Racing Desk. The Riccarton trainers enjoyed a lucrative autumn campaign with the 3YO daughter of Savabeel who landed the Gr1 New Zealand Oaks (2400m) at Trentham before crossing the Tasman for a creditable fifth placing in the Gr1 Australian Oaks (2400m) at Randwick. "She came through the trip first-class and she's having a deserved break now," said Michael Pitman. "We'll have her back for the Group One races at Hawke's Bay and then we'll be looking to take her to Melbourne early in the spring."

Weekend Black Type Feature Schedule

Friday, 27th April 2018

Headlined by the Hong Kong Jockey Club's 'Champions Day' at Sha Tin racecourse on Sunday, and the Gr2 Victory Stakes in Brisbane and the Gr2 Travis Stakes in New Zealand on Saturday, there are 21 stakes races across Australia, New Zealand, Singapore & Hong Kong this weekend. Brought to you by International Animal Health Products, below in AEST order are Friday, Saturday's & Sunday's scheduled stakes races incorporating integrated fields, form, indicative odds and runner news:

Friday

10:40pm: Gr2 Merlion Trophy (1200m) Kranji
11:45pm Gr2 Chairman's Trophy (1600m) Kranji

Saturday

12:53pm: Gr2 Travis Stakes (2000m) Te Rapa
1:42pm: Listed Dalrello Stakes (1200m) Doomben
2:01pm: Gr3 Breeders' Stakes (1200m) Morphettville
2:03pm: Gr3 Cambridge Breeders Stakes (1200m) Te Rapa
2:10pm: Listed Hawkesbury Gold Rush (1100m) Hawkesbury
2:50pm: Gr3 Godolphin Crown (1300m) Hawkesbury
3:02pm: Listed Gold Coast Bracelet (1630m) Doomben
3:10pm: Listed Thoroughbred Club Redoute's Choice Stakes (1200m) Caulfield
3:21pm: Listed Nitschke Stakes (1400m) Morphettville
3:30pm: Gr3 Hawkesbury Gold Cup (1600m) Hawkesbury
3:42pm: Gr2 Victory Stakes (1200m) Doomben
4:01pm: Listed City Of Adelaide Handicap (1400m) Morphettville
4:10pm: Gr3 Hawkesbury Guineas (1400m) Hawkesbury
4:22pm: Gr3 Gunsynd Classic (1630m) Doomben
4:41pm: Gr3 Chairman's Stakes (2035m) Morphettville
5:40pm: Gr3 WA Sires' Produce Stakes (1400m) Ascot)

Sunday

5:20pm: Gr1 Champions Mile (1600m) Sha Tin
6:00pm: Gr1 Chairman's Sprint Prize (1200m) Sha Tin
6:40pm: Gr1 QEII Cup (2000m) Sha Tin

McEvoy to Ride Problem Child Pakistan Star

Friday, 27th April 2018

Kerrin McEvoy has been named as the new rider of enigmatic Hong Kong galloper Pakistan Star in Sunday's Gr1 QEII Cup (2000m) at Sha Tin, reports the South China Morning Post. McEvoy replaces British-based Brazilian jockey Silvestre de Sousa who informed connections he could not make the trip on Wednesday. "It was disappointing that Silvestre couldn't come but we are excited to get a top jockey like Kerrin," trainer Tony Cruz said. "He is the type of jockey that isn't going to be overawed by an occasion. He has never ridden for me before but I know he was number two jockey for Godolphin and he has ridden plenty of Group One winners, so that's good enough for me." The richly talented Pakistan Star has acquired cult status in Hong Kong due his unpredictability and history of suddenly pulling up in trackwork, trials and, worst of all, races. However, there is no doubt the German-bred 5YO possesses outstanding ability as evidenced by his amazing debut performance below.

Bowman To Ride in Tenno Sho

Friday, 27th April 2018

Meanwhile, Hugh Bowman will return to Japan this weekend to ride Cheval Grand in one of the country's greatest races, the Group 1 Tenno Sho (Spring) at Kyoto Racecourse on Sunday. It will be the third time Bowman has been aboard Cheval Grand having partnered him to win last year's Gr1 Japan Cup and most recently when third in the Gr1 Arima Kinen in December. The 6YO son of Heart's Cry will be aiming to go one better after finishing runner-up to champion stayer Kitasan Black in last year's Tenno Sho (Spring). "His last two runs in the spring Tenno Sho (Spring) have been good, so I'll be expecting something similar to those this time," trainer Yasuo Tomomichi told JRA Media. Run over the Melbourne Cup distance of 3200 metres, this year will see the 79th running of the Spring race, but the 157th overall, when including the autumn races of the Tenno Sho, which are run at Tokyo towards the end of the year.
Breeding&Racing Monthly Archives
2017 Agistment & Spelling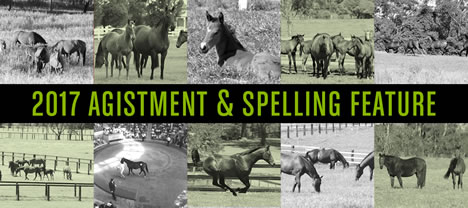 2017 Equine Health Mini Feature