Daily News Archive
Daily News Subscription
Snitzel Claims Record Champion Sires' Title
Tuesday, 1st August 2017
Such was Snitzel's history-making 2016/17 Championship season in Australia that it's easier to list what he didn't do. He's not the Champion Broodmare Sire, but otherwise Snitzel dominated every category he contested. Arrowfield's new superstar headed the key columns of the General Premiership table, with $16.1 million prize money (breaking Street Cry's 2015/16 record by almost $3.2 million), 159 winners (one short of Lohnro's record, set in 2013/14) and equalling the legendary Danehill's 2001/02 record of 26 stakes winners. Worldwide, his progeny won 29 stakes winners (5 at Group 1 level and nine of them juveniles) of 36 Group & Listed Races, for total prize money of $20.4 million. Snitzel's first Premiership completes an unprecedented three-generation sequence of Champion Australian Sires, following Danehill's nine titles (won between 1995 and 2005) and Redoute's Choice's three titles (2006, 2010, 2014). He is the fifth Arrowfield resident to become Australia's Champion Sire, following Redoute's Choice, Flying Spur (2007), Danehill (1995) & Last Tycoon (1994). Snitzel has also made history with five very special achievements in 2017:
Equalling the legendary Danehill's single-season record of 26 Australian stakes winners;
Setting a new Australian record for progeny earnings in a season of $16,175,135;
Siring the first Australian Group One juvenile trifecta since 1982 (namely Invader, Summer Passage & Trapeze Artist in the 2017 Gr1 ATC Inglis Sires' Produce Stakes);
Setting a new record for most Australian-sired 2YO winners in a season of 35 (32 in Australia and 3 in New Zealand); and
Completing an unprecedented three-generation sequence of Champion Australian Sires: Danehill (9 titles), Redoute's Choice (2006, 2010, 2014) & Snitzel (2017).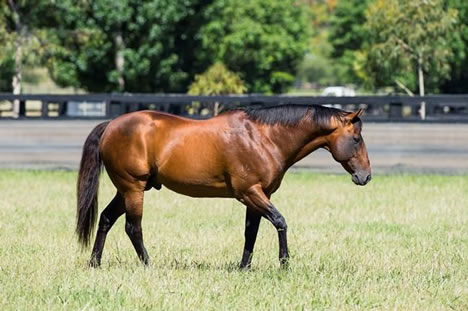 Champion sire Snitzel (Bronwen Healy)